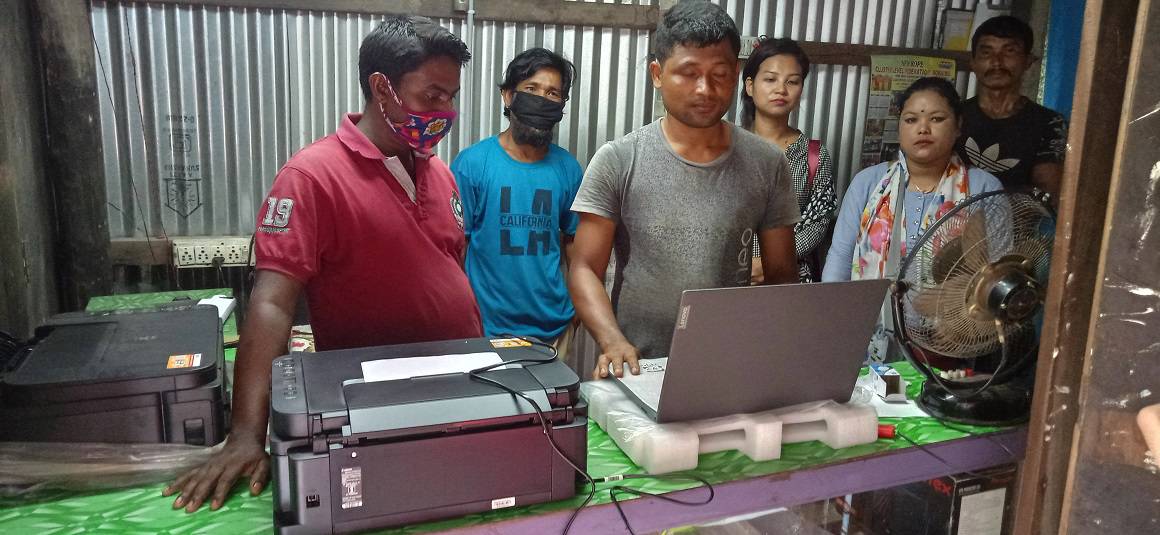 Livelihood Program 2012-13
Published At: 03/03/2023, Published By: NERSWN Admin

Promoting Basic Livelihood for the Displaced-An Initiative of Enhancing Livelihood of the Displaced Population

Since 2008, NERSWN has been working with the IDP of Sapkata mainly on education along with other issues.

Since 2011, we have been simultaneously working in livelihood initiative with school main activity at Jhawarbil, that experienced has been given us encouraged to works in livelihood activity in intensive way for whole villages of Jhawarbil area. So, this is the way forward which we began our intensive way of livelihood activity at there since from May, 2012.

As our planned on livelihood intervention: we could not do much but completed all the activities up to the mark but we tried our level best to be complete all the activity in time or in proper way. The Ethnic conflict between Bodo & Muslim on last July 2012 was excuse most of the time to carry out the activities but as team we completed smoothly all the activity with full effort reaching out to the community in time.

Goal: A sustainable livelihood for villagers of three clusters in the district of Kokrajhar.

Objectives:
To collectivize the farmers for building skill, increasing organic agricultural products and create marketing linkages.

To promote non-farm, livestock based livelihood activities with the marginal farmers and landless farmers mainly among the displaced population.

To ensure effective implementation of agriculture based schemes by lobbying, partnering and converging with the related government departments.
Briefing about the targeted plans that we have:
Formation & Promotion of Farmer's Club and SHGs
We have successfully formed two farmers club which comprise of Total 18 farmers. Through the farmers club the members are working jointly in time of tilling lands or other crops activities besides maintaining group savings. The biggest achievement being forming the farmers club was that they can come together and discuss openly their issues.
A total of five SHG's with 62 members, only women, were formed at Hirlagar and Bagan para under sapkata and jhawrbil area. At present they are doing collectivize micro savings. The groups have been provided trainings on records keeping, basic literacy, leadership, EDP and livestock management. About the bank linkages the group has been facing problems due to demanding of various documents. Now on wards strategically we are trying to involve all our groups through the NRLM project.
2. Organizing training on Micro-enterprise and Organic Farming.
We have organized trainings on organic farming one at Jhawarbil and another at Hirlagar with the selective farmers and SHG's members. Along with promoting organic farming, other, one compost pit and pesticide Demo has been done at Jhawarbil.
3. Piglet Bank at Jhawarbil
The idea of starting the piglet bank is to make sure that money does not become a barrier for a villager to buy piglet for breeding. This is a common people revolving fund for internal loan for piglet purchase in a minimum rate of interest. We have been successfully established one piglet bank committee at Jhawarbil comprising of 7 executives' members and a general member one from each village (especially women members). There is also an appraisal committee for selection of beneficiary proposal. At present the money of piglet bank is functioning from the "NERSWN" account and a total of six people have taken the loan so far.
4. Conducting Training on Bokhasi Method of Pig Rearing and basic treatment of Pigs.
Understanding the context we have been organized training on basic treatment of domestic animals to the villagers mainly on more advanced method of pig rearing and its basic care and treatment. We have also provided with kits of Medicines for common diseases to the jhawarbil and Sapkata area.
5. Conducting training-cum-demonstration of SRI Method of Rice Cultivation
SRI (System of Rice Intensification) being a success last year in the region, we initiated kasiabari area. Ten farmers were given training and have been distributed certified Ranjit variety rice seeds. We have also prepared IEC materials of SRI in Assamese and Bodo language and distributed in those areas. We also tried DEMO on maize with two farmers in 4 Bighas of Land. As per production status, local variety of maize was 6 mond(2.4 quintal) per bigha, while SRI method came up to 8 mond(3.2 quintal) per bigha in our trail basis.
6. Conducting Training-Cum Motivational Programs on Kitchen-Garden Method of Vegetable Cultivation
Post displacement the villagers were not engaged in vegetable cultivation. This program was intervened to gradually motivate them in doing it. We supported with vegetables seeds to total 53 nos. of selective farmers and the SHG's members at Jhawarbil and Sapkata. Among all the beneficiaries of vegetable seeds, the entire surplus of production was sold in the market after family consumption.
Mr Mohan Baskey: one of the progressive farmers in jhawarbil area. He cultivated Chilly, Brinjal as main vegetable and others. He got Rs. 4000.00 (in L/S) selling the chilli which was cultivated in a small plot of land.
7. Developing Homestead Land with Horticulture and Multi-Vegetable Crops
Nursery plant, predominantly, areca plant was supported at Jhawarbil, Hirlagar and Baganpara. We have also supported fruit bearing plants fruits (for nutritional purpose and selling.) e.g: lemon, pineapple, jackfruit, mango etc. Besides that, training on landscaping the house compound depending to the sun direction to grow the plants/trees was made. A total of 2000 nos. of fruits bearing plants and around 10,000 nos. of areca nut for nursery preparation were distributed at Jhawarbil and Hirlagar, Sapkata.
8. Exposure Visits for Farmers & Staff.
An exposure trip to the farmers to inculcate their knowledge through meeting progressive farmers, entrepreneurs and scientists direct in the field and interaction with them was made. Two exposure trips had been done to the KVK , ICAR Telepara under Gossaigaon, Bamankura a famous Vegetables producer village, visited a mushroom industry and interacted with famous entrepreneurs in Kokrajhar district. The effort of exposure trips was seen very responsive because this year the members of the SHG's have done vegetables garden individually and group wise and marketed them. In the two exposure trips total 64 nos. (Men and women) of farmers were benefited.
Through this programme the people of Jhawarbil and Hirlagar sapkata were benefited with different angles. Now the need is an intensively follow up and monitoring of the existing farmers group, SHGs, Piglets Bank, committee of Pond and other. The organization will keep motivating the villagers and bring more success stories in future.
Attached files here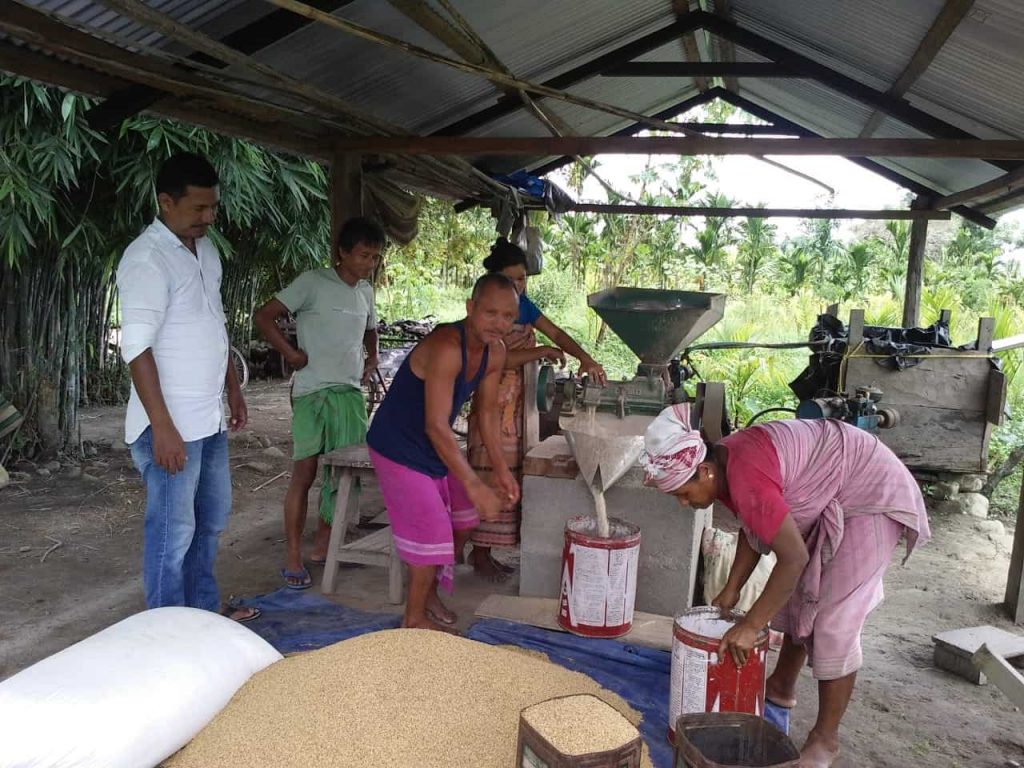 livelihood
Published At: 03/03/2023
As the second year of intensive livelihood intervention in Jhawarbil...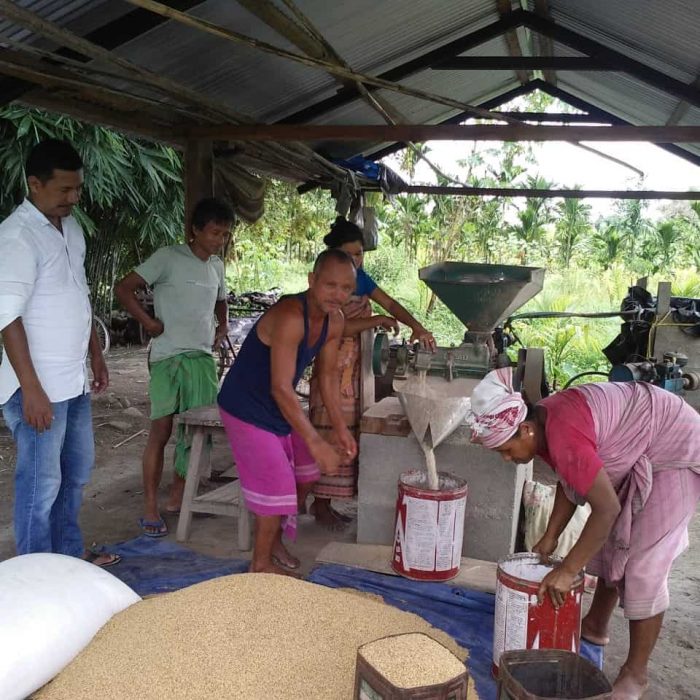 livelihood
Published At: 03/03/2023
Experimenting ideas, sharpening skills by dirtying hands and legs, seeing...